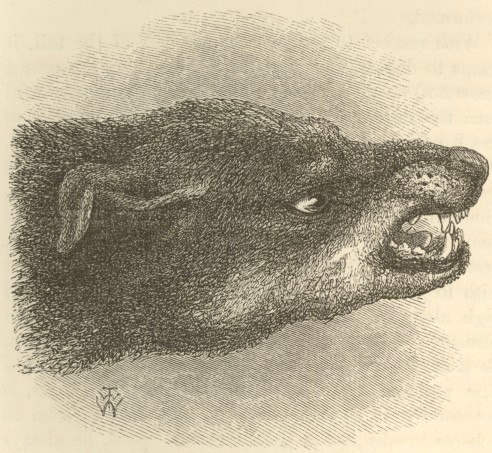 Head of snarling Dog by Mr. Wood in Charles Darwin,

Expression of the Emotions
A Dream:
I am in Chicago, in the long and dark hallway of an old house, trying frantically to dislodge the teeth of a small black dog which has bitten into my middle finger and refuses to let go. A few people walk through the hallway, but no one knows how to separate the dog and me. They shake their heads and mutter unintelligibly to themselves and move on.
Hours go by. In a fog of pain, I doze off, sitting on the floor and leaning against the wall. At some point, half-awake and half-asleep, I realize that the dog, too, has fallen asleep and that its lower jaw has slackened, its teeth slipping out of my finger. Careful not to awaken the dog, I pry his upper teeth out and put the him gently on the floor. I look curiously at my throbbing finger, now colored a deep bluish-purple and grotesquely swollen and misshapened. There is nothing to be done about it. I get up off the floor, and walk out of the house at sunset into a vast residential neighborhood I do not recognize.

***********

Various pertinent scraps of information I've found:
If you see dogs as loyal companions and friends in real life, a dog biting you in a dream might symbolize a betrayal of love and loyalty. The middle finger may represent practicality, hard work, committment, or maybe potency and strength. (Think of it raised in a defiant or menacing gesture.)

I suppose it speaks for itself: a dream of almost complete desolation. Maybe a shred of consolation in the fact that I am able to walk out into unknown territory. Path and destination unclear, but walking.
**********
As it happens, this dream is a few nights old, and does not reflect my feelings today. This morning, with a wintry sun forcing its way through the clouds to light the inch or so of snow on the ground, looks to be something of an up day. But I'm posting the dream anyway. Now what intrigues me is how gently I put that dog down. And I don't think that my response has anything to do with liking dogs in real life.
Perhaps the significance lies in how we respond to pain or, rather, the memory of that which has caused us pain. Accepting, honoring, absorbing ~ not resisting ~ our experience ~ that may be what propels us through unknown neighborhoods toward uncertain destinations.
It is a sign of health, of course, to try to disengage from a potentially rabid dog. But it does not necessarily follow that one should then kick it down the hallway.