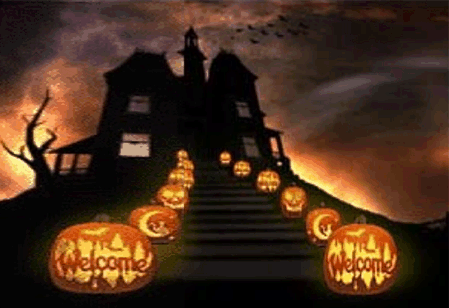 Quiet around this blog lately. So I thought I'd add some tidbits as we await our ghostly visitors.

Two weeks of classes and a week to finish up papers and finals left in this term. I am trying to work very steadily, because I know that if the flu arrives I will be out for a week of my own and even more should one of the kids get it. I'm very much on target, but I can't say that I'm ahead. Although if I stay healthy, that could change in a day or two.

Due to the workload, I'm reading other things that are manageable in very small chunks these days. On my "current" stack:

a book of
Anne Sexton poems
,

a book of
Mary Oliver essays
(and a few poems),

a
von Balthasar book
that's been lying around here for awhile.

And I picked up Rowan Williams'
new book on Dostoyevsky
at the library this week, but that probably needs to await the end of finals.

The Lovely Daughter has just appeared in her neon pink wig, pink graduation dress, pink Tinkerbell wings, and purple, navy, and green suede books, ready to venture forth as a pink fairy. She and the one of her friends who is also living at home this year have to go by their middle school science teacher's house. He's the one who told them, when they protested a class trip to D.C. over Halloween, that they were too old for trick or treating. Consequently, the four best friends made sure to go to his house every year while they were in high school, and it only seems appropriate that they should return as college graduates.

I got my hair cut this afternoon. Basic bob per usual. As he finished, the hairdresser asked if I'd like him to touch up my make-up. What make-up would that be, I wondered? There is another world out there.

Thirty minutes and we've only had eight trick-or-treaters. It's cold, cold enough that I reminded Gregarious Son of the year he and Chicago Son went out with another set of twin boys from their class ~ in the snow. We had a lot of fun in those days. A beauitful little girl from down the street just came by, and we discovered that she doesn't at all remember the Lovely Daughter, who babysat for her family for years. Of course, the pink wig might have something to do with it.

Well, that's my exciting life. I guess I have to go back to work and then eventually out to dinner.

Happy Halloween!